Four fun ways to encourage summer reading!
Summer is fast approaching, and we have found this is a wonderful time to read!  I like to encourage keeping up the habit of reading in the summer, but I also like to keep it fairly simple. Below I will share four fun ideas we have incorporated to encourage summer reading.
Tap into your Heart of Dakota personal library this summer!
One thing you will accumulate by homeschooling with Heart of Dakota is excellent literature.  Carrie has carefully chosen Charlotte Mason style living books for every subject area. Just as we like to reread favorite books as adults, I have found my children do as well. When my children were little, I only owned 3 or 4 Heart of Dakota guides and their accompanying books. So when the summer began, I set out all of the books we'd previously used. Then, I let them choose one by one any books they wanted to reread for fun. Of course, they could only read books from guides they'd already completed. We can't spoil the next guide, can we?!? Once my children were older and I owned too many books to set out, we made a trip to our basement library shelves of HOD books.
Order from Heart of Dakota the Extension Package for the guide you just completed!
When we have just finished studying a time period together, I have found it such fun to order the Extension Package for the guide we just completed! If my children are mature enough and good enough readers to enjoy the Extension Package, I love for them to read them. I make sure not to expect any follow-up assignments to be done because it IS summer. However, I do find I still hear many impromptu oral narrations anyway! I like to put them in a basket in each child's room. Then, they can read them at their leisure. For my children who are more sequential, I might give them a copy of the Extension Package books printed from the Internet or copied from the Heart of Dakota Catalog. Then, they can read them in the order they are listed, which is the chronological order they are planned in the guide.
Check out from the library the Emerging Reader's Set supplemental titles!
If you have a child that just completed the Emerging Reader's Set, why not check out from the library the supplemental titles? Carrie painstakingly chose supplemental titles of comparable reading levels and listed them by unit in your Emerging Reader's Set schedule. These supplemental titles are a super way to keep the ball rolling for brand new readers! When we take a break from reading with newly independent readers, I find they often backtrack. This is why it is a great idea to enjoy the supplemental titles for the Emerging Reader's Set!  Yes, the first ones will be easy, but that's alright! Though we can read at a college level as adults, that doesn't mean we want to read at that level for fun all the time! Our children enjoy reading at different levels other than their highest level too.
Get ahead in Drawn into the Heart of Reading by doing a few genres in the summer!
If there is one thing I love, it is that feeling of 'getting ahead' somehow! That is why I have often enjoyed doing 1-2 genres of Drawn into the Heart of Reading in the summer. I remember one summer in particular. Looking at the genres, I decided Adventure would be a wonderful genre for the summer!  For each of my sons, I chose a different Adventure book from their upcoming homeschool year of DITHOR books. Then, we did the kickoff up really big! I had the time! Likewise, we did the final project up really big!  Again, why not? I had the time!  I remember actually burying pirate hats, pirate eye patches, and pirate swords in a tote in our garden. At the end of their treasure hunt, they got to dig up the tote. We even invited the cousins to be a part of it all!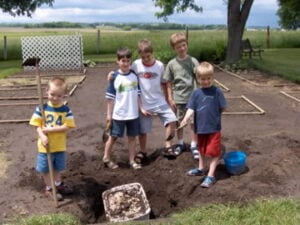 I hope this gives you some ideas of how you can encourage your children to read this summer!  Give us a call at Heart of Dakota if you need help choosing a book pack to order – we love to help! We also love to think of children reading for the pure joy of it in the summer!
In Christ,
Julie