Set out on an exciting journey through the Bible from Creation through Paul's missionary journeys in Little Hands to Heaven. Help Noah usher the animals off the ark, pray with Jonah inside the fish, stand up to Goliath with David, find missing sheep with the Good Shepherd, and set sail to spread the Good News of Jesus. Through 33 exciting weeks of Little Hands to Heaven, your children will enjoy Bible stories, take part in fun activities, study letters and sounds, and begin a lifelong journey into God's Word!
Already know what you need?
Designed for ages 2-5, Little Hands to Heaven makes teaching quick and easy by bringing together engaging daily lessons, captivating stories, and memorable activities – all from a solid biblical perspective. This unique combination makes school enjoyable to teach and fosters a love for learning and a love for the Lord.  Take a look at the delightful array of Bibles, devotionals, and music your child will get to experience in Little Hands to Heaven!
Need help with placement?
Visit our "Guide Placement" page!
Little Hands to Heaven integrates a wide range of subjects with a unit study feel, giving your child a story-based overview of the Bible from Creation through Apostle Paul's missionary journeys. The guide also teaches essential preschool readiness skills to prepare your child for kindergarten, such as letter recognition, letter formation, letter sounds, early math skills, fine motor skills, and large motor skills. To learn more about what Little Hands to Heaven includes, have a look below!
What's Included in
My Guide?
Can I Tailor This to
Fit My Child?
Yes! We've provided plenty of opportunities to customize with different options for Bible and devotions. Since preschool-aged children vary widely in their attention span, these options allow you to mix and match different resources to better suit your child's needs. The music works well for all ages, retelling the biblical stories at the heart of our program. No matter what you choose, Little Hands to Heaven pulls it all together for you!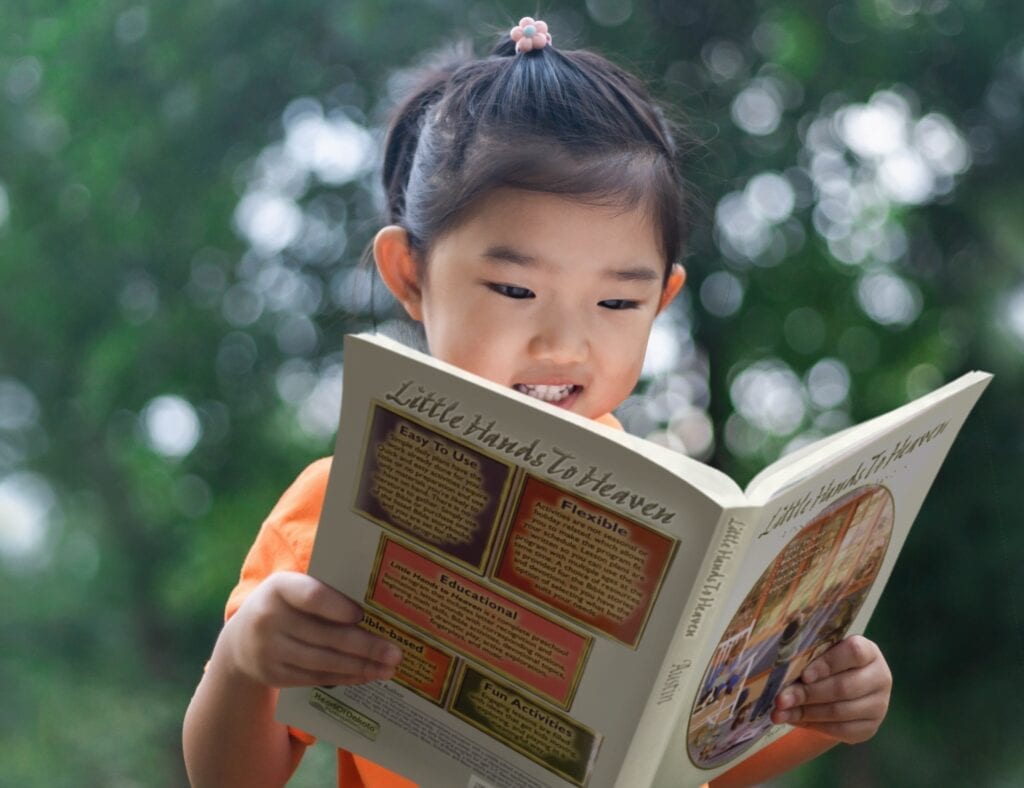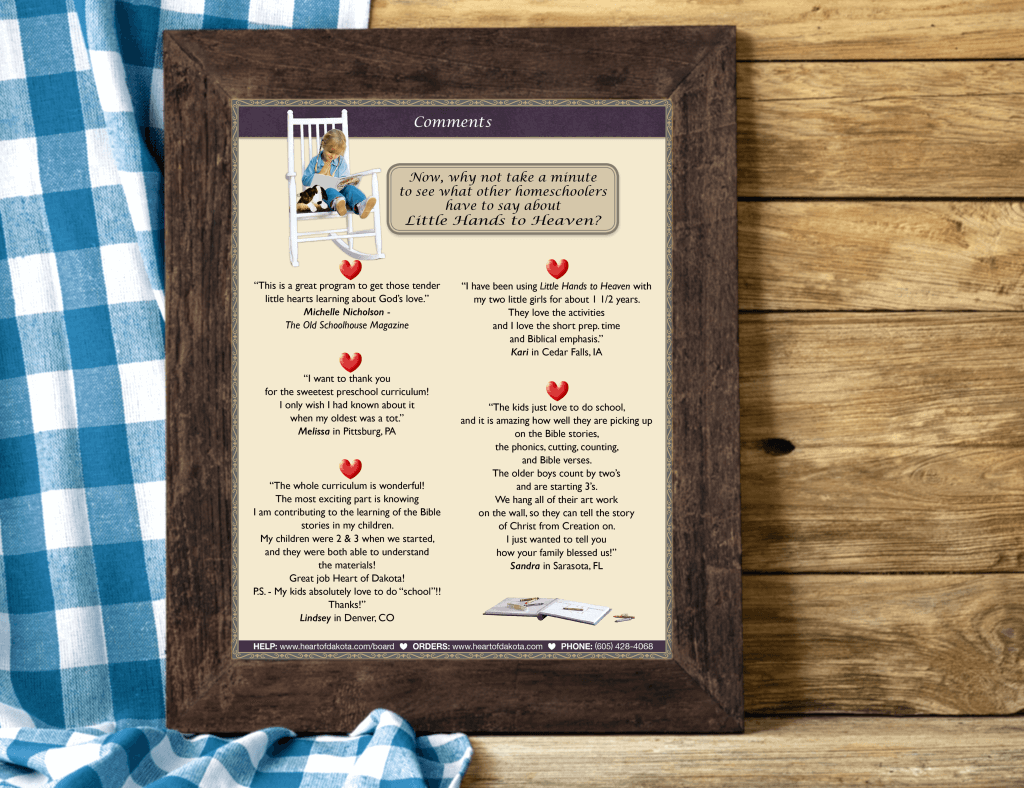 What Do Other
People Have to Say?
"I have been using Little Hands to Heaven with my two little girls. They love the activities, and I love the short prep. time and Biblical emphasis."
Little Hands to Heaven includes 33 engaging units with open-and-go daily plans that pull everything together. Units include plans for five days a week, taking 30 minutes a day for students to complete all subjects. Each day is conveniently displayed on a single page, making it easy to organize your day at a glance. Let's have a better look inside, so you can see what using Little Hands to Heaven is like.
In this video, Julie gives a brief overview of Little Hands to Heaven including a quick peek into the daily plans.  After watching this video, you'll have a clear picture of how each day is organized and a better understanding of what to expect from our complete, Bible-based, hands-on, educational program.
Each day of Little Hands to Heaven is organized on a single page, with each subject contained in its own box. Boxes can be done in any order, and subjects are seamlessly rotated to cover everything you need.  Once you complete each box on the page, you are done!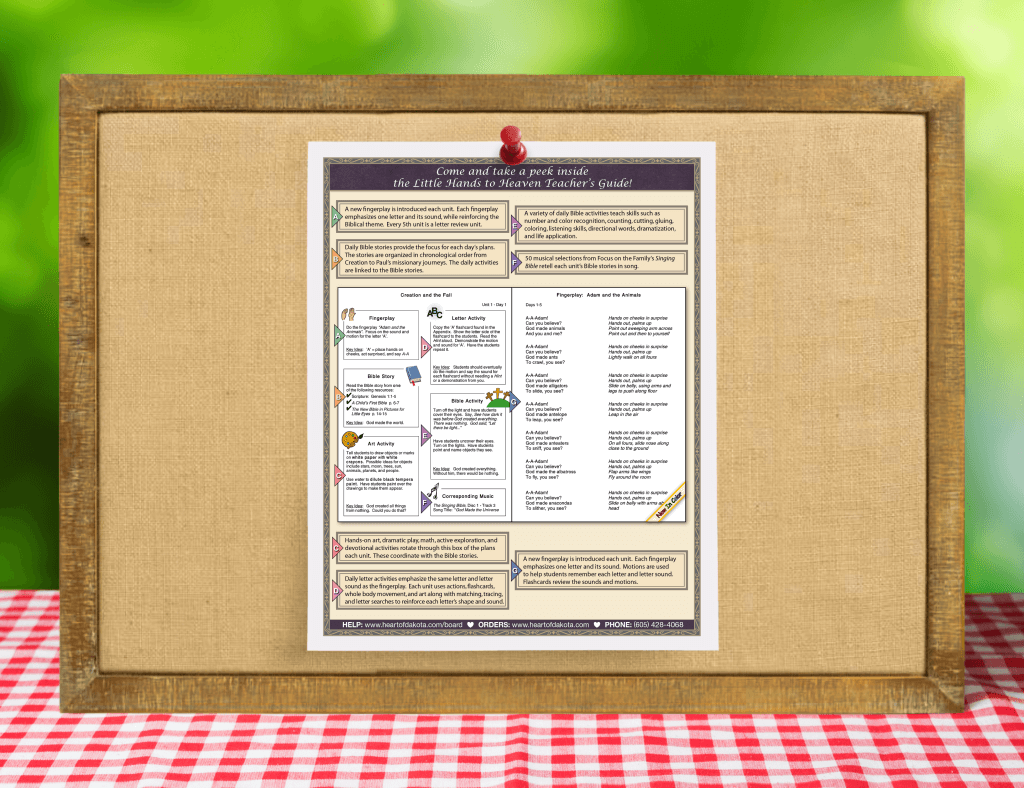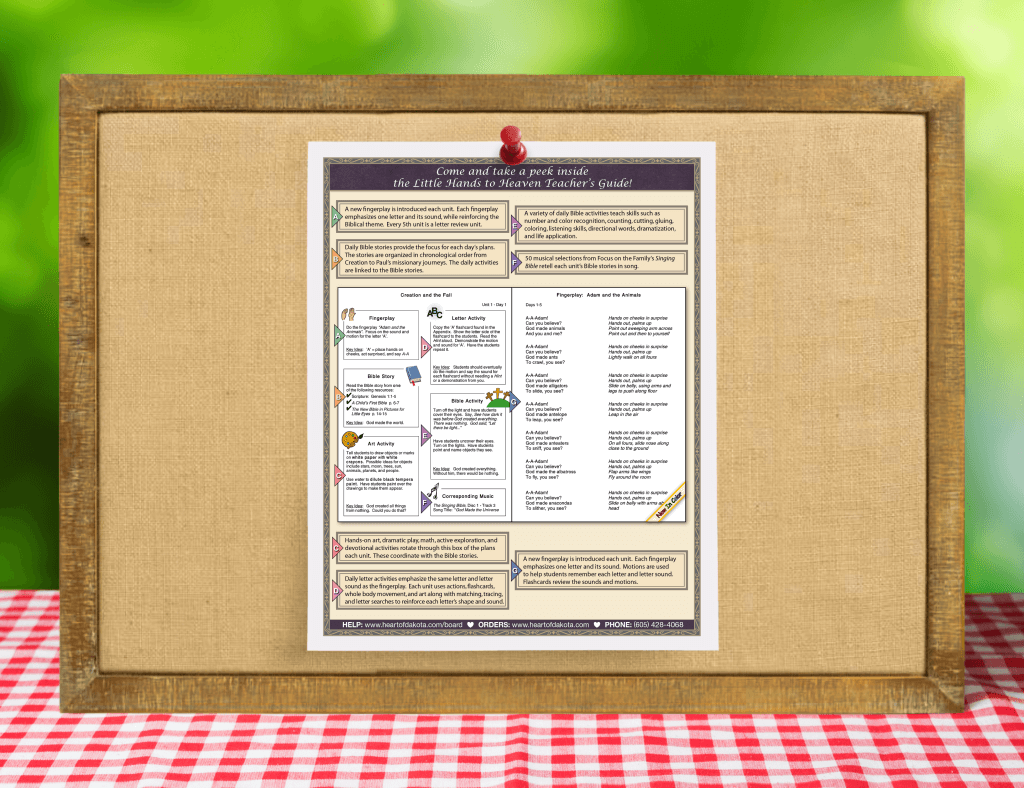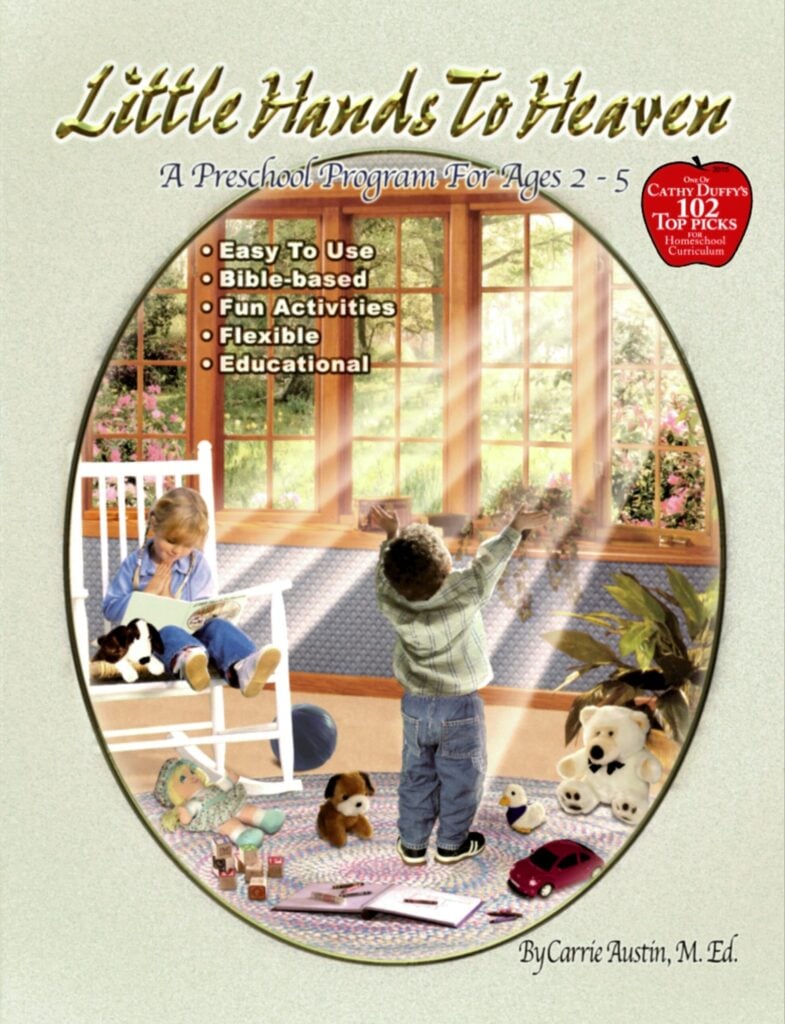 Little Hands to Heaven features open-and-go daily plans with an appealing mix of oral, auditory, visual, and hands-on activities. Daily lessons incorporate a variety of learning styles and a perfect blend of teacher and child. Step-by-step directions, a careful balance of skills, and helpful key ideas bring everything together. By keeping our design both constant and coherent, we have created a strong foundation you can rely on year after year!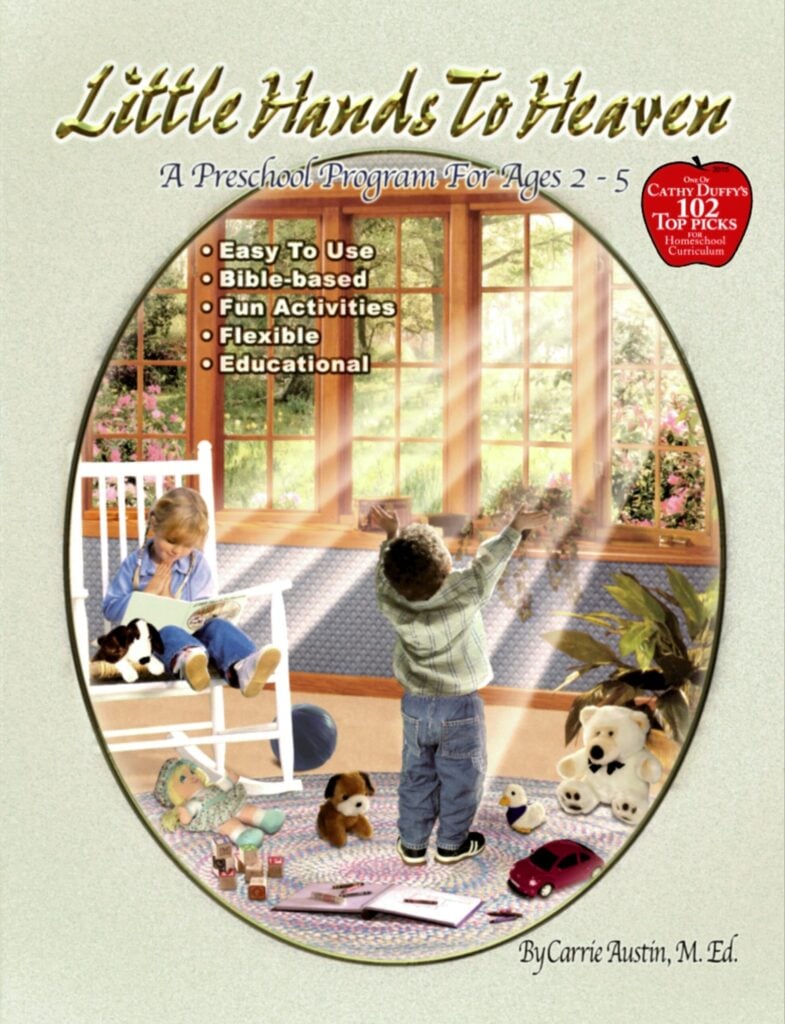 Now that you've seen a little bit about Little Hands to Heaven, are you ready to shop? We can't wait for you to see what's in store!
Not sure you're in the right place? If your child is too old for Little Hands to Heaven, we've got you covered.
Need something older?
Have a look at Little Hearts for His Glory. It might be just right for your child.
Still want to know more about Little Hands to Heaven? Have no fear – there's more here! See the following excellent resources for more in-depth information about this program.