More Than a Charlotte Mason Moment
Meet Charlotte Mason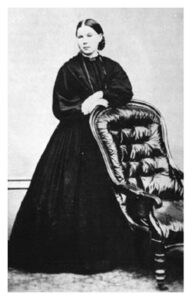 Let us take a moment to meet Charlotte Mason, and in doing so, gain inspiration and direction for homeschooling our own precious children! Charlotte Mason was born in England in 1842 on New Year's Day. Her father was a Liverpool merchant, a simple but refined man who was very fond of books.  Both of Charlotte's parents loved to educate her. As only children themselves, teaching  Charlotte, their only daughter, was a special joy.  Unfortunately, Charlotte's mother died when Charlotte was just 16. Her grief-stricken father died the following year. Suddenly alone in the world, Charlotte lived with friends until at 18, she moved to London. She enrolled in the only training college available to teachers in England at the time.  From these difficult beginnings, Charlotte rose to become an advocate of parents as educators for their children.
Heart of Dakota – Inspired by Charlotte Mason
Heart of Dakota is inspired by Charlotte Mason, and it is our family's hope that you will be too!  So many  educational cornerstones of Charlotte Mason's approach to education form the foundation of Heart of Dakota's approach to learning.  It is no surprise to me that an orphaned young daughter would grasp the importance of the education parents could give their children and long for it herself.  We believe this too.  Through Charlotte Mason's approach to learning, we find we as parents can hopefully give something Charlotte's parents could not – an education provided by loving parents that carries our children to adulthood. 
Education is an atmosphere!

"By the saying, 'education is an atmosphere,' it is not meant that a child should be isolated in what may be called a 'child environment,' especially adapted and prepared; but that we should take into account the educational value of his natural home atmosphere, both as regards persons and things, and should let him live freely among his proper conditions.  (Mason 1923: preface).

I think Charlotte longed for her childhood days of her parents lovingly creating a home atmosphere for education.  It was powerful to her, because she once had it and lost it.  She spent her life trying to help parents create this atmosphere of education within the home setting – perhaps because she longed for it herself.  We long for this ourselves as parents, and we also long for it for you, as fellow homeschool parents.  Hence, Heart of Dakota.
A dream dreamed, from an orphaned child, coming to fruition through you!
I believe Charlotte Mason was a strong woman whose difficulties in life brought about a newfound respect for the once well-respected old adage that parents are the best teachers for their children.  Parents love their children as no others could. They are invested in their future, and there is no 'passing on' of the children to a new teacher. The parent is the teacher. She knows her children well, and she has a heart full of love and hope and fortitude to see them through to be the best they can be.
I like to think we as homeschool parents have the love and hope and fortitude for our children Charlotte's parents surely had for her.  Only, Lord willing, perhaps we will be blessed enough to journey on this home education road a little longer.  I believe this was an orphaned child's dream, and it can come to fruition through you. Over the next few weeks, I'll be introducing Charlotte Mason to you as she makes her presence known in Heart of Dakota. I hope you take as much inspiration in meeting her this way as I have.
In Christ,
Julie