Phonics Readiness: Getting Little Ones Ready for Phonics
We all know phonics instruction is important, but how do you get your little ones ready for phonics? You teach your children phonics readiness skills. So, what are phonics readiness skills? Furthermore, how do you teach them? Well, Heart of Dakota (HOD) includes all the phonics readiness skills your two to five year-olds need right within Little Hands to Heaven. Let's see how!
Learning and Retaining Letter Sounds to Be Ready for Phonics
Little Hands to Heaven uses engaging "fingerplays" to teach letter sounds, encourage left-right brain integration, and practice motor skills in a fun and imaginative way. As students learn a new fingerplay each week, they will perform accompanying hand motions keyed to letters and their sounds at the same time. All fingerplays coordinate with the Bible stories in Little Hands to Heaven, so they are memorable and easy to remember! Learning and retaining letter sounds is the first phonics readiness skill.

Completing Daily Letter Activities to Be Prepared for Phonics Instruction
Little Hands to Heaven includes daily letter activities introducing a new letter each week. These letter activities emphasize the same letter and letter sound as the fingerplay. Activities rotate to provide students with a variety of hands-on methods for learning each letter. Daily reinforcement of letters and their sounds is the second phonics readiness skill.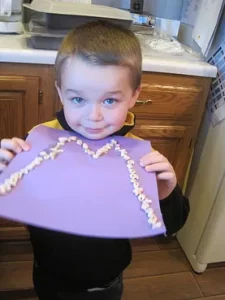 Enjoying a Variety of Five Different Daily Letter Activities That Involve Structured Movement
First, children practice letter flashcards with corresponding sounds and motions. As they learn new letters, they add to their flashcard collection until they are familiar with the entire alphabet!
Second, children gain awareness of letter shapes by painting, drawing, or decorating letters. They practice fine motor skills by gluing items like cotton balls, yarn, O-shaped cereal pieces, macaroni, raisins, or other small items to the letter. Incorporating fine motor skills improves phonics readiness because it involves mind-body connection to the shapes of letters.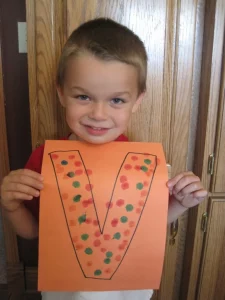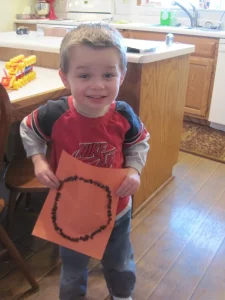 Third, children use whole-body movement to trace masking tape letters while saying the letter sound. They trace large taped letters on the floor by tiptoeing on the letter and jumping off the end, rolling a toy car along it, walking a stuffed animal over it, outlining it in blocks, or sitting on a pillow and scooting along the letter.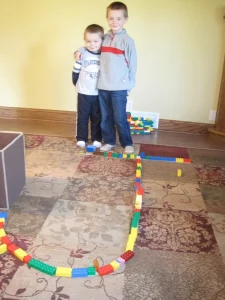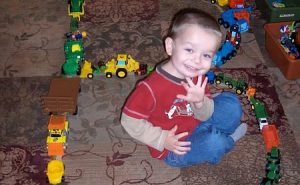 Fourth, children use tactile activities to form each letter. They perform slide activities such as tracing the letter with an ice cube on construction paper, outlining the letter with sidewalk chalk or two crayons taped together, drawing the letter with chocolate syrup in a pan, using a finger to outline the letter on carpet, or forming the letter out of playdough. Forming each letter in engaging, memorable ways further improves phonics readiness skills.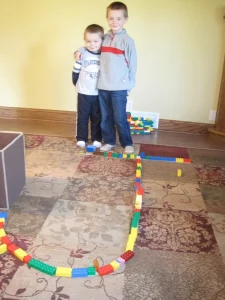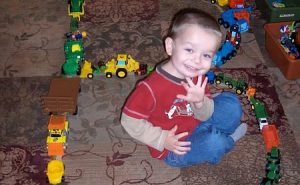 Fifth, children play letter "hide and seek" to find and circle letters in lines from the fingerplay. They trace dotted lines from left to right to match uppercase and lowercase versions of each letter. These activities help children practice finding letters in context, while training them to track from left to right. This phonics readiness skill is a precursor to completing a formal handwriting book of writing letters within a predetermined space.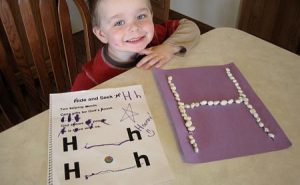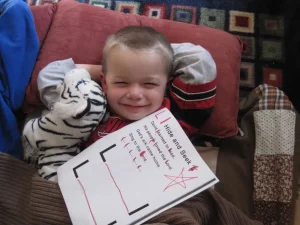 In Christ,
Julie