Editor's note: This post was originally released in 2020. Julie's sons Wyatt and Riley are both now in college through Liberty Online. They still enjoy sharing time together. 😊
Raising Siblings to Be Best Friends
When I first began homeschooling with Heart of Dakota, I made a list of reasons why I wanted to homeschool. I have referred to that list often this past 17 years of homeschooling! Especially if I am having a tougher day, I go back to that list and find inspiration to press on.  One thing I listed was that I wanted our sons to be each other's best friends. I consider my siblings to be my best friends, and I credit that to my parents. They raised us in a country home that was miles from town and friends. We three girls often only had each other as playmates and confidants, and we became so close. Still today, we sisters consider each other as best friends! As we raise our own sons, I see them becoming best friends as well – what a blessing!
Siblings As Best Friends As They Mature
My oldest son is now in college. However, we are still blessed to have him living with us, as he is doing an online business finance degree at Liberty University.  Like most 20 year-olds, he is crazy busy!  Playing basketball, attending Bible studies, homeschool dances, college/career Sunday School classes, coffee shop board games, church, work, etc., keeps him busy.  However, we still are thrilled Wyatt is home most mornings and early afternoons. When Wyatt began college, I knew we were in a new chapter of life. Wyatt works on college independently, and I don't manage his time. However, he still wanted to have a mid-morning break from work to meet with his siblings. Even though he has matured into a young man, he considers his younger brothers as best friends worthy of his time, which I love!
A Boys-Only Club Meeting
Just today, I snapped a picture of our sons having their "Boys-Only Club Meeting." I had to be quick!  I'm not allowed to attend. Neither is my husband, though they make an exception if something must be decided. This sibling private get-together started when Wyatt started college. At about 11 AM every school day, Emmett makes homemade hot cocoa for himself and his siblings. He jazzes the cocoa up with different kinds of creamers, marshmallows, sprinkles, or whipped cream. Then, he grandly announces that is it time for the 'private delegation to meet.' Behind closed doors, the three siblings meet, make plans, and laugh together. I've attempted a few times to come in with a note that say 'Julie Grosz has hereby been granted permission to attend the private delegation today.' However, I'm quickly ushered out by 'security.' Too funny! I love it!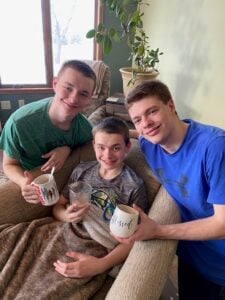 Successfully raising siblings to be best friends means they must have time to be together!
I'd say we are successfully raising our sons to be each other's best friends!  Hooray! One thing I can happily check off the list.  Growing lasting friendships like this takes time though. In the hustle and bustle of life, we have to make sure we really do set aside time for them to just be together. I have to be okay stepping out of the room and letting them enjoy time alone. Like all of you, I have more than enough things to get done anyway. I don't mind one bit when our sons meet for their "Boys-Only Club Meeting." In fact, I've rather grown to love it! Oh, there will always be occasional squabbling or less-than-perfect behavior, but after all, if you can't be yourself with your best friends, who can you be?!? I hope, given time, your children can find their way to becoming each other's best friends too!
In Christ,
Julie