More Than a Charlotte Mason Moment
Charlotte Mason's Picture Study Inspires Art Appreciation
Charlotte Mason loved to inspire children to appreciate art by using the format of picture study. According to Charlotte Mason, We cannot measure the influence that one or another artist has upon the child's sense of beauty, upon his power of seeing, as in a picture, the common sights of life; he is enriched more than we know in having really looked at even a single picture. (Volume 1, p. 309)
So, how do you do Charlotte Mason style picture study?
It is not as hard as one might think! In fact, many times people try to over-complicate Charlotte Mason's picture study. Simply put, during picture study children spend time studying artist's pictures, absorbing their details, and discussing what they noticed. In the process of picture study, the goal is for children to learn to appreciate art. Through picture study according to Charlotte Mason, Children learn not merely to see a picture but "to look at it", taking in every detail. (Volume 6, p. 214-215)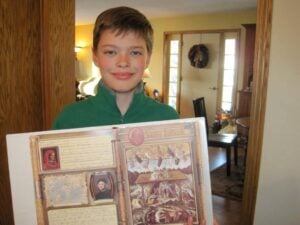 So, what does Carrie have to say about her journey with Charlotte Mason's picture study?
Our family pursued Charlotte Mason style picture study for many years before I wrote it into our guides. I must admit I was extremely skeptical about the simplicity of the Charlotte Mason approach to picture study in the beginning. But, I have become a firm believer in it as the years have passed! Because of picture study, my kiddos and I have learned to appreciate and love beautiful art. We spent time studying pictures, absorbing each picture's details, and discussing what each of us individually noticed. Best of all, we did find we truly learned to appreciate art in the process. We also learned art study doesn't have to be long or in-depth to resonate. It just needs to be meditated upon and shared.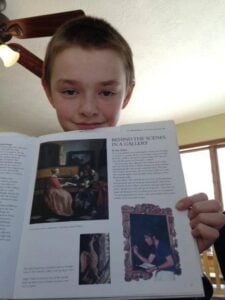 So, when is picture study included in Heart of Dakota?
Heart of Dakota includes picture study one day in each unit of Resurrection to Reformation.  Parent and student get to do art appreciation together, so both can enjoy it! Art prints for the picture study either use full-color prints from Looking at Pictures or from the full-color "Art Gallery" provided in the back of the Resurrection to Reformation Student Notebook. Looking at Pictures with its 150 stunning illustrations in full color from The National Gallery in London (including entries from Leonardo, Rembrandt, Matisse, Seurat, Picasso, and many more) partnered with the full color Art Gallery in RTR's notebook work together beautifully!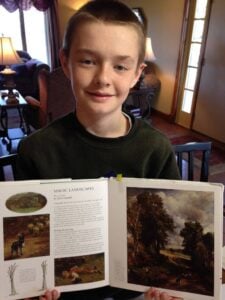 Closing Thoughts

I don't know about you, but I am personally thankful we get to enjoy Charlotte Mason's ideals in such a way that I can actually do them! If I were to try to do every Charlotte Mason ideal every day or even every homeschool year, I think I would fall down eventually. I feel I have the best of both worlds with the way Carrie has written HOD's guides. The tenets of Charlotte Mason are always present in the guides – dictation, copywork, oral narrations, written narrations, timelines/Book of Centuries, and living books. But, the other Charlotte Mason led activities (such as hymn study, composer study, nature study, and picture study) rotate. Each gets their moment in the sun! We get to do each activity thoroughly and completely, so we can remember and enjoy it for years to come.
My children will never walk into an art museum without appreciating the art they see, and I have Charlotte Mason and Carrie Austin to thank for that!
 How do we prepare a child, again, to use the aesthetic sense with which he appears to come provided? His education should furnish him with whole galleries of mental pictures, pictures by great artists old and new. (Charlotte Mason, Volume 6, p. 43)
 We cannot measure the influence that one or another artist has upon the child's sense of beauty, upon his power of seeing, as in a picture, the common sights of life; he is enriched more than we know in having really looked at even a single picture. (Charlotte Mason, Volume 1, page 109).
In Christ,
Julie