From Our House to Yours
Third or Fourth Grade Homeschooling with Heart of Dakota- Preparing Hearts for His Glory
With Heart of Dakota, there are flexible age ranges because, as we all know, not all kiddos at one age are the same. Preparing Hearts…, which will be the focus of this blog post, has a target age range of 8-10 (third or fourth grade), with extensions for ages 11-12 (fifth to sixth grade). It has complete plans for all necessary subject areas but customizable plans in reading, spelling, grammar, and math.  It is Christ-centered and full of Charlotte Mason style unforgettable living books. I've 'met' Preparing Hearts… myself 3 times with my 3 sons, so I'm pretty confident in saying, I think you will love her!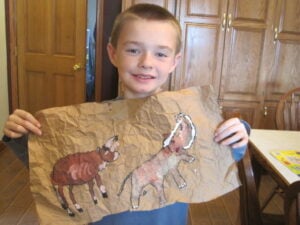 Preparing… says let's give our children the backdrop. Let's give them the timeline of history running from start to finish. Then, we will know they are well prepared for the 'hooks' of each of the 4 time periods to come in Hearts for Him Through Time.  Let's also get them prepared for middle school work, by having them gradually take on some necessary independence. But, hold on to your hat! Let's still recognize they are not all that grown-up, and let's still plan for some needed time together. So, you can see Bigger Hearts… laid the foundation, but how does Preparing Hearts… answer back?
Preparing Hearts says, "Let's grow up a little, but not too fast!"
Little brother Bigger Hearts… planned for a big teaching year.  He didn't let anything slide because he knew how important it would be to prepare for Preparing.  He took a little time, depending on you as the parent to work side by side your child to lay that foundation well.  But, this is when you thank him, because here comes Preparing to prove your time in Bigger was well spent. Bigger… bows and happily hands the reins over to Preparing Hearts. Bowing back, Preparing Hearts… tips her hat to Bigger Hearts…, and says, "Thank you kindly, Bigger. I'll take it from here! Now let's just see what we can do!"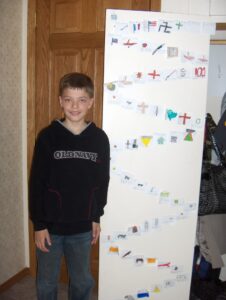 Introducing Some Notable and Exciting Changes in Preparing Hearts
You know how you worked alongside your children for most of Bigger Hearts? Well, Preparing Hearts will change that and in a way that is in no way confusing.  Little letters begin to show up in each box of your teacher guide's plans. "T" for teacher-directed, "S" for semi-independent, and "I" for independent.  Why?  Because there is less confusion about who does what.
Charlotte Mason said when children reach the age of 9, they should begin reading their own books for all school subjects. Preparing recognizes this, but eases children into it by only assigning a manageable amount of reading each day.  A part of history with just a few directions to follow, all of science, and all of reading become the student's reading responsibility for the day.
These readings and directions are short, and they are on the student's appropriate reading level, so they can feel success with this newfound independence.  The Self-Study History Package for the Newly Independent Reader, the Science Package, and a choice of either the Level 2 or Level 3 or Level 4/5 Boy/Girl Drawn into the Heart of Reading book packages comprise their reading for the year. But, what else is a notable change, you may ask?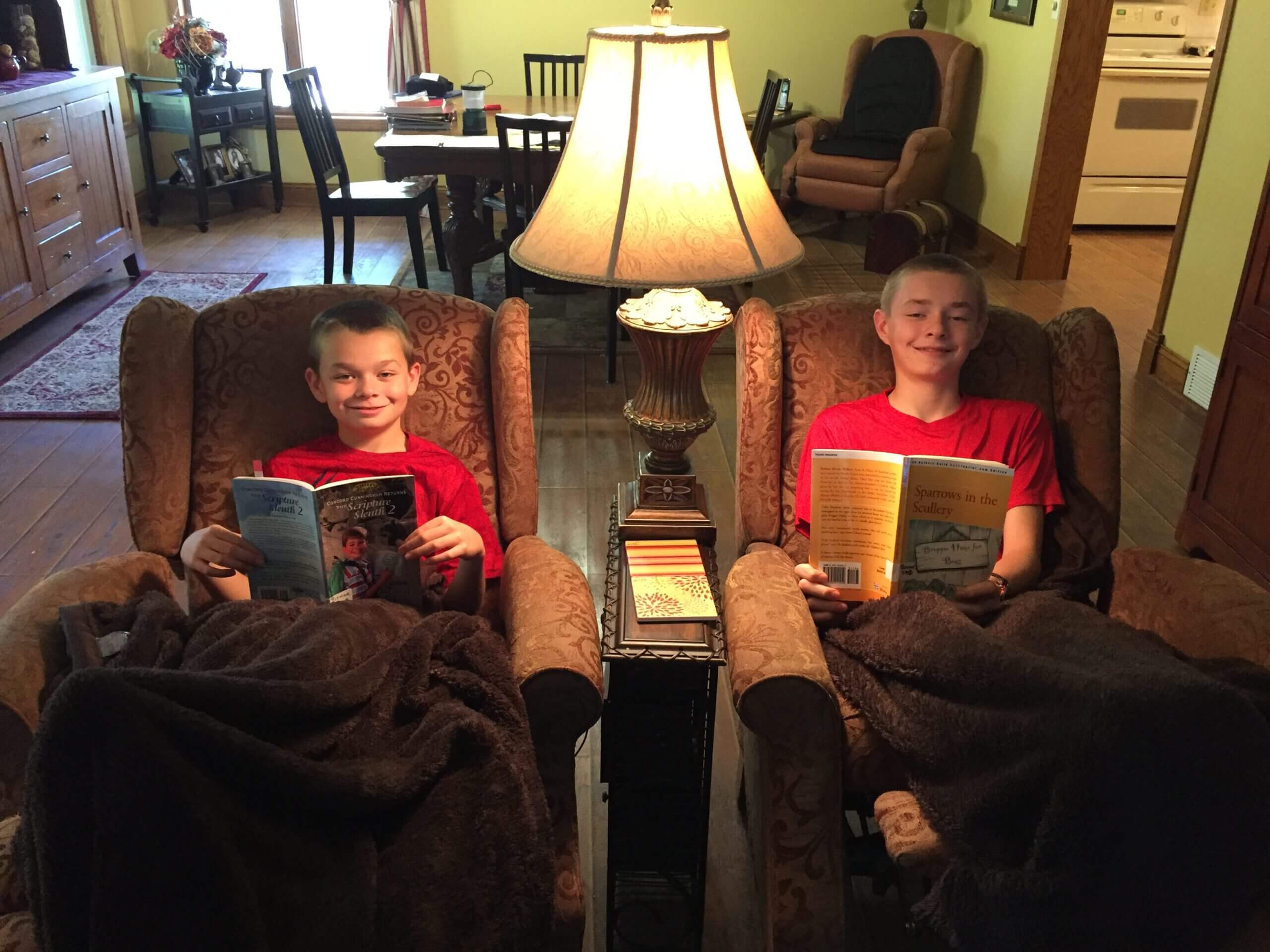 Well, say 'goodbye' to 5 days of school each week, and say 'hello' to 4!
Bigger Hearts was laying the foundation, so 5 days a week was important.  But, Preparing Hearts takes 5 days of work and converts them to 4 days a week, so your child (and you) can have a day off to explore other interests (or to just do the laundry).  Hmm, we like that, right?  But, what else?
Well, say 'goodbye' to 1 day history activities, and say 'hello' to 3 day history projects!
History activities in Bigger Hearts were 1 day responses to the history readings.  In contrast, Preparing Hearts recognizes students need to learn to follow directions to complete multi-step projects from start to finish. (Project-based assessment is the spine of much of high school and college.)  Before you as a possible project-phobic parent want to throw in the towel, know that Preparing's projects are never fluff.  They are connected to the history reading, and they are often the basis for multi-media history-based research.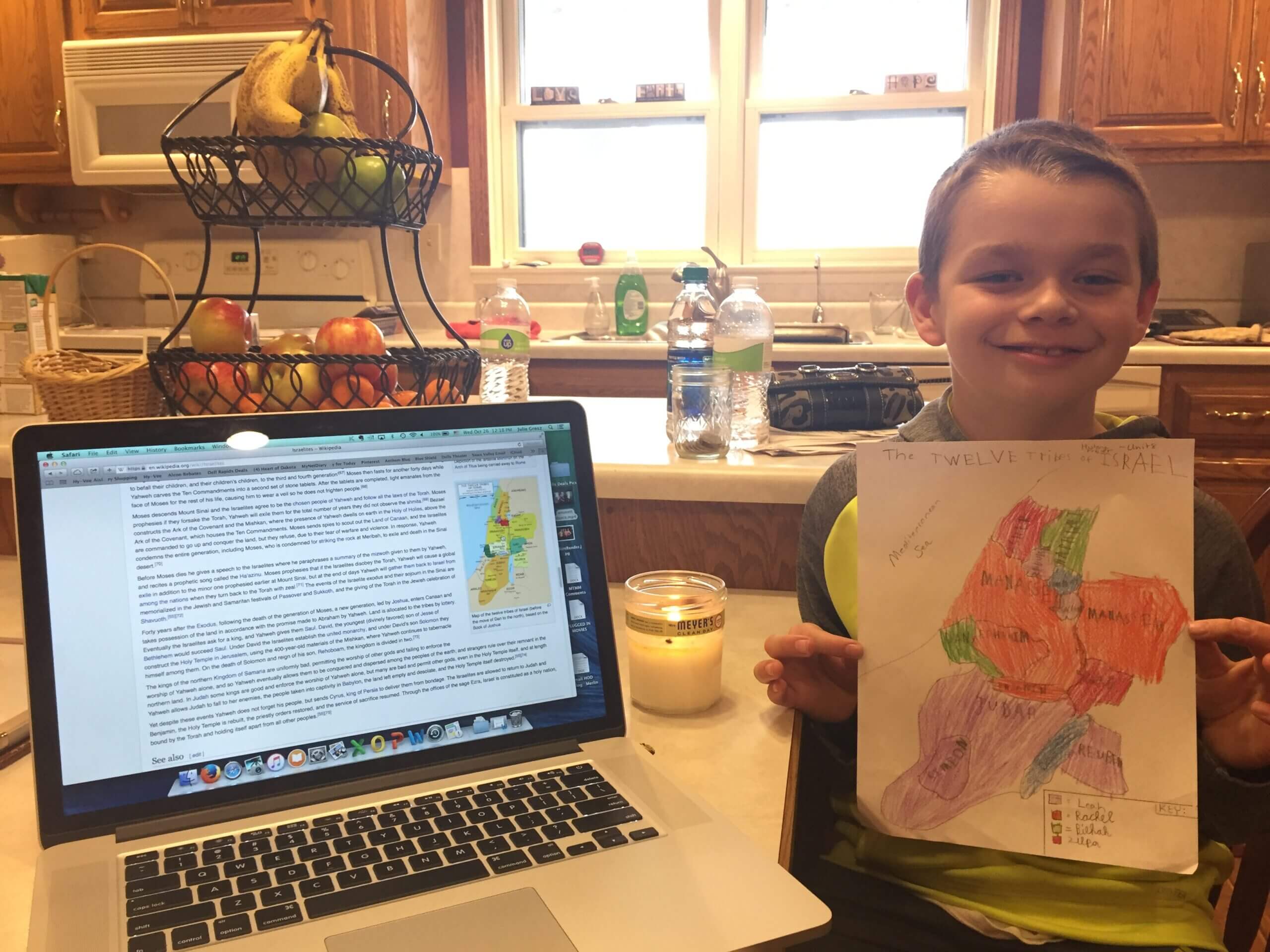 Small increments of 15 minute segments are planned on Days 1-3 for students to step-by-step complete history projects directly related to their history. Every week is a different project, and every week they are done in 3 days. So no projects left out for weeks on end on your kitchen table, and no strange materials either.  An average kitchen and an average amount of typical art supplies are all you need.  But now you may be asking, if the history project is on Days 1-3 of the plans, what fills its place on Day 4? Written narrations – that's what!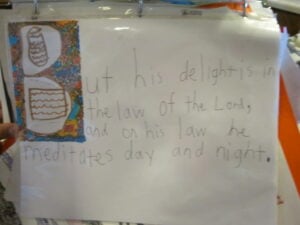 Say 'hello' to written narrations, but don't say 'goodbye' to oral narrations – just take them up a notch!
Oral narrations were modeled and practiced previously, and children continue to hone those skills in Preparing.  Orally narrating on the read-aloud Storytime book was practiced in Bigger and is continued in Preparing.  Narrating on the Reading about History read-aloud is a new skill. Oral narrations are taken up a notch even further as children orally narrate on history readings they have read by themselves independently.  Likewise, children orally narrate on a totally new subject they also read by themselves independently – and that is science.
Finally, written narrations are introduced one day each week in response to the history read-aloud. But, as always, this skill is taught in a guided incremental way, so children can get off to a good start with it.  Plans let kiddos write narrations on smaller segments of the history read-aloud, with guided questions according to Bloom's Taxonomyto get them started.  Simple step-by-step editing tips in the Appendix help make this transition even easier. Kiddos get off to a good start in written narrations, so they are sure to do well!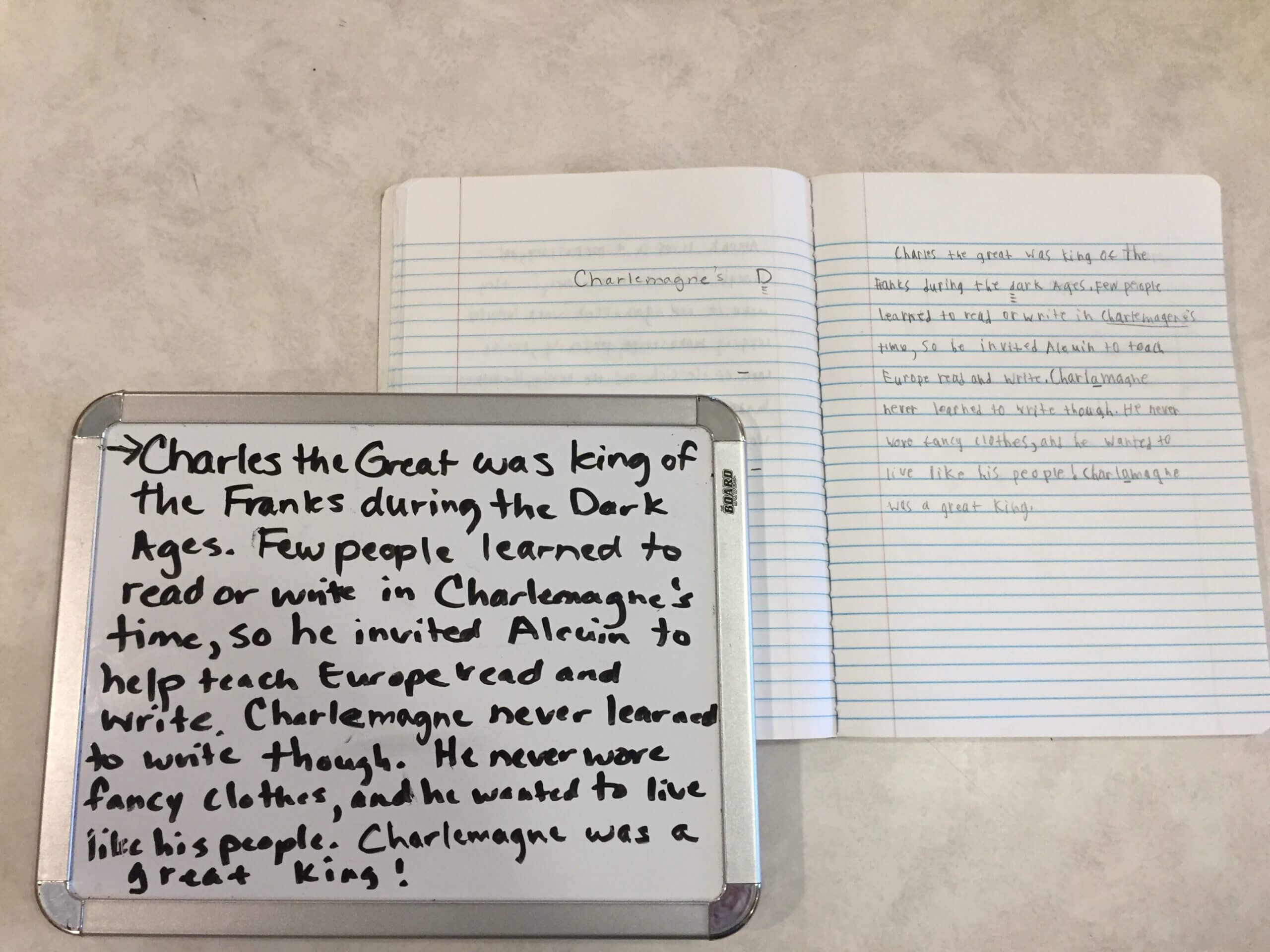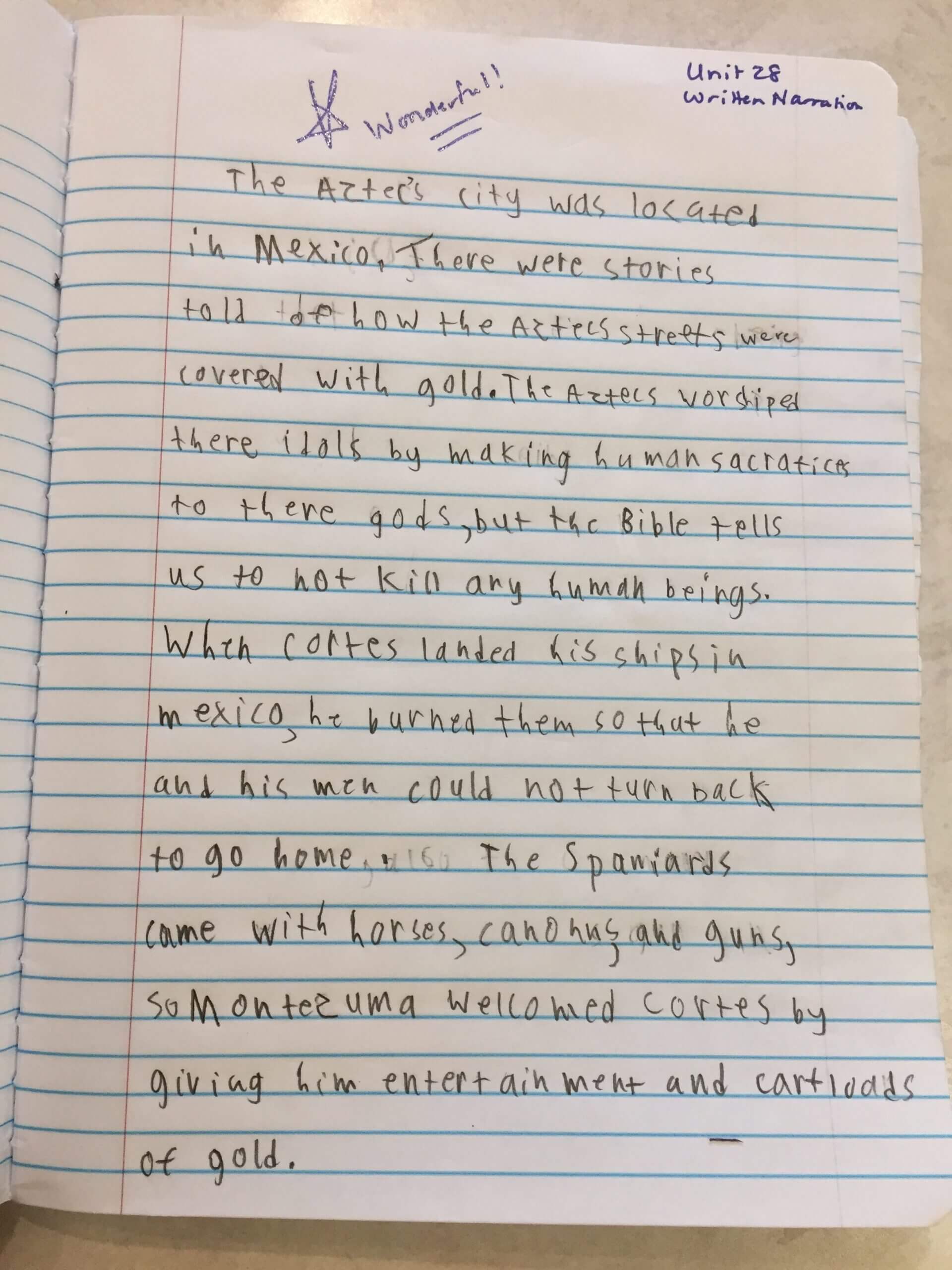 So, what else is added to Preparing Hearts, you may ask?
Well, creative writing lessons are added to Preparing Hearts in response to the classical poetry.  Likewise, the poetry study becomes more in-depth, focusing on the work of one poet, Robert Louis Stevenson (very Charlotte Mason-like).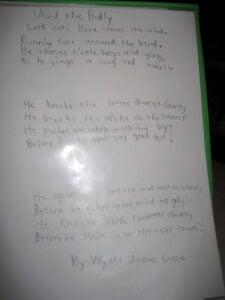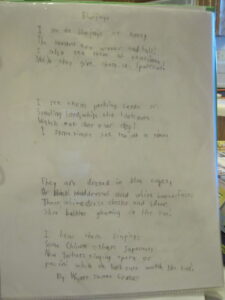 The Poetry Study includes the following skills each week:
First Day: questions and discussion related to the meaning of the poem
Second Day: creative writing lesson based upon the poem's style, content, pattern, or poetic devices
Third Day: personal connections with the poet and the poem
Fourth Day: suggested ways to share the poem with another person
*Each 12 week term: memorization of a previously studied Robert Louis Stevenson poem of the student's choice
Other Noteworthy Changes
Other noteworthy changes to Preparing Hearts include the addition of history-based research using an encyclopedia.  This includes a specific topic to be researched, as well specific questions to be answered orally.  Geography quick-finds are included, and though they are matched nicely to the history, they are also matched nicely to typical state standards.  Comprehension questions must be answered each week for science, five questions to be exact, and they include the page number to locate the answer, as this is a new skill.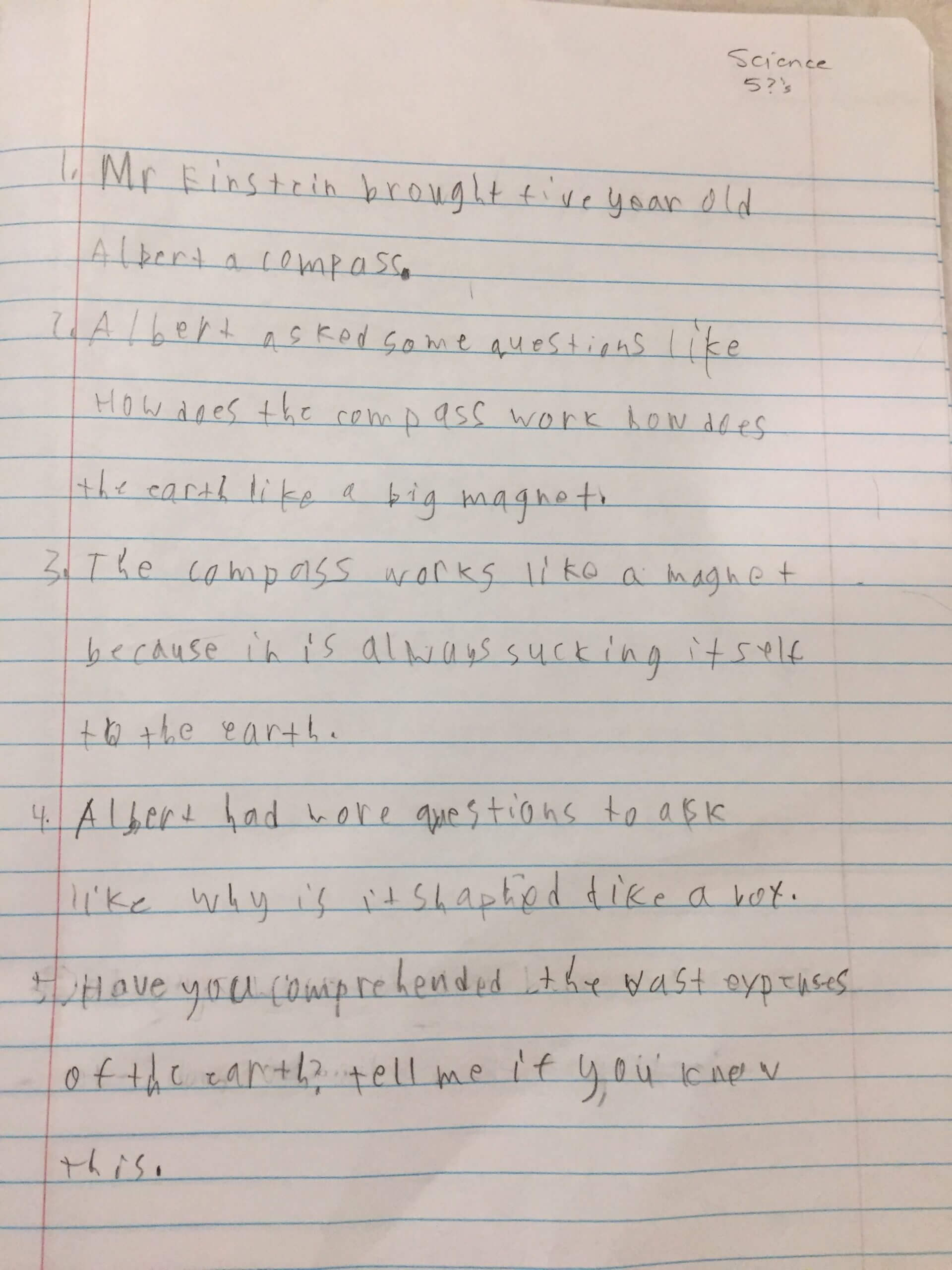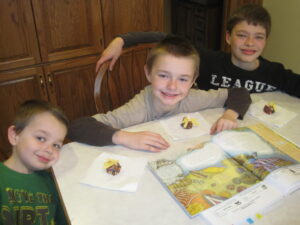 The Bible Study 'grows up!'
Two days of Bible Study are led by the parent, but two days are practice for an independent Bible Quiet Time. Charlotte Mason's Common Place Book is introduced. Instead of one Scripture verse being memorized, passages are being memorized, and further reflection and personal application are added, as well as the ACTS model of prayer. This is training for next year, when students will have daily Bible Quiet Time and parents will have Bible Study that is more in-depth.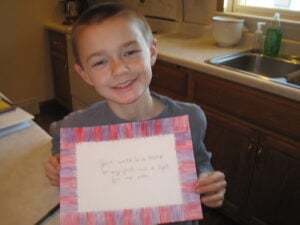 But, let's not get ahead of ourselves, let's first check out the Bible layout of Preparing:
First Day : Discuss a portion of a Psalm using heartfelt questions that encourage students to read and reflect upon God's word.
Second Day: Identify the mood and purpose of the Psalm, and pray about the Psalm.
Third Day: Have a personal quiet time filled with prayer and praise based on a portion of a Psalm.
Fourth Day: Copy the Scripture memory selection in a Common Place Book (Note: See the description of a Common Place Book in the "Bible Study" box of the plans for Day 4 in each unit.)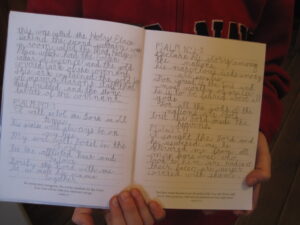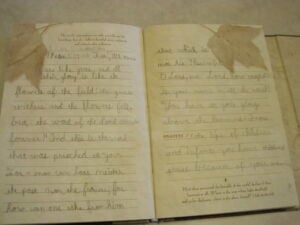 Everything else from Bigger just grows up a little more in Preparing.
The 1-3 vocabulary cards in Bigger become 3-5 vocabulary cards in Preparing. Biblical connections  are just part of more and more in the plans. There are more timeline entries, longer readings, more mature topics, and longer dictation passages. Children do more diagramming and complete writing assignments in English, and they practice both cursive and print throughout the year.
Drawn into the Heart of Reading covers more difficult story elements, Godly character qualities, projects, and comprehension questions. Draw and Write Through History adds step-by-step drawing assignments. History and science notebooking assignments become more involved, as do science experiments.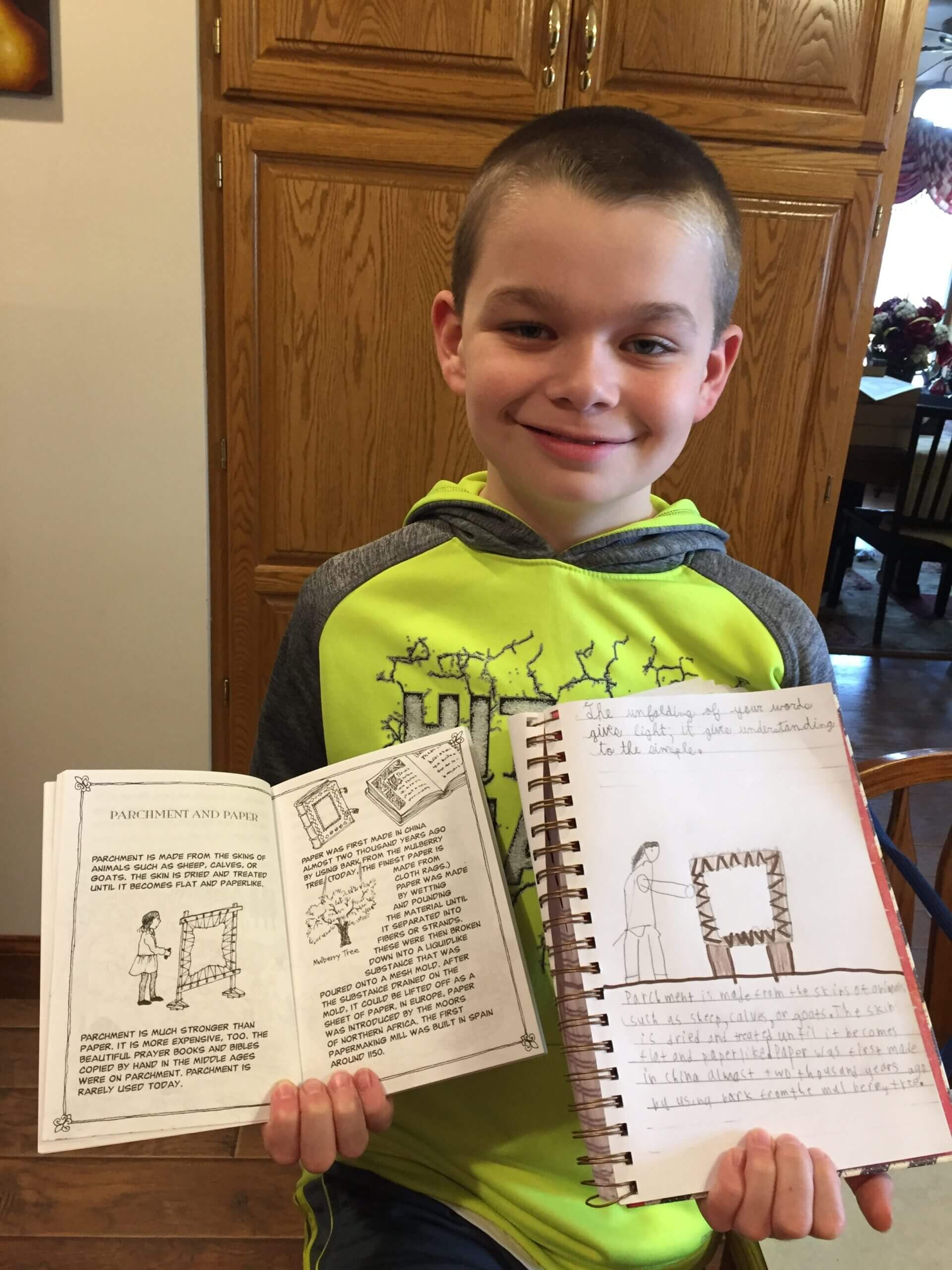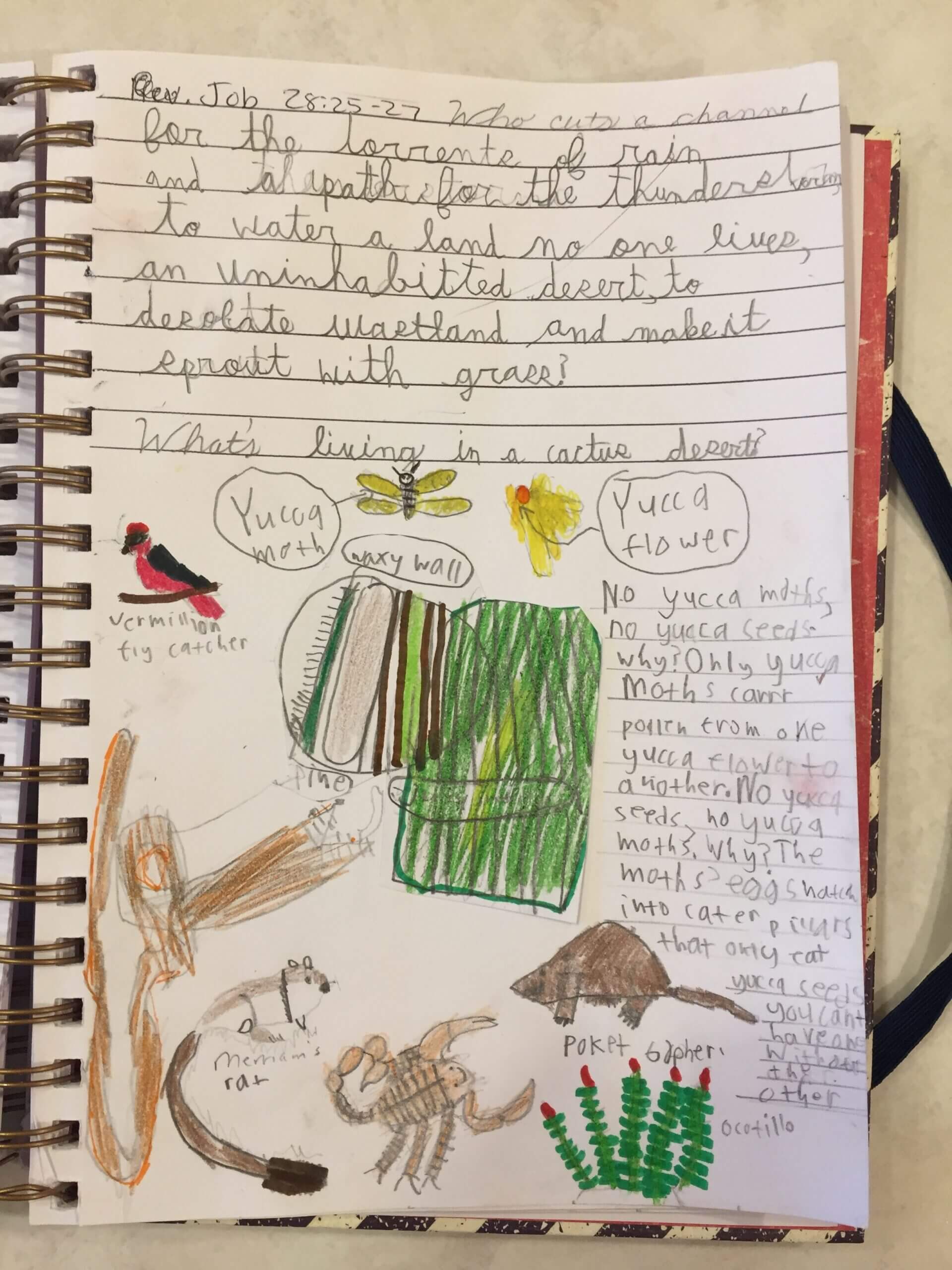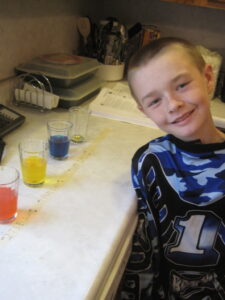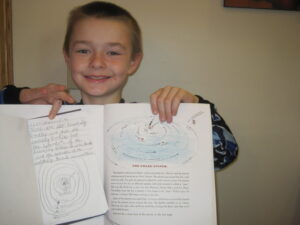 In Closing…
Preparing has some of our favorite all-time books.  Grandpa's Box partnered with Child's History of the World – amazing!  I dare you not to cry when you finish the last reading of Grandpa's Box. It made me long for my Dad's storytelling and want to learn how to whittle (don't ask about the whittling… you'll understand once you read it).  It also made my kiddos see how God's plans truly are best, even when we don't fully understand them.
Last, it made me see how my role as a homeschool teacher and mom was changing.  I would not forever only read aloud, but instead I'd embrace new and exciting things my kiddos needed.  And though I thought I might not like that, I did.  In fact, I loved it, because I got to know my children better and better – their ideas, their hearts, and their dreams.  I hope you enjoy it too!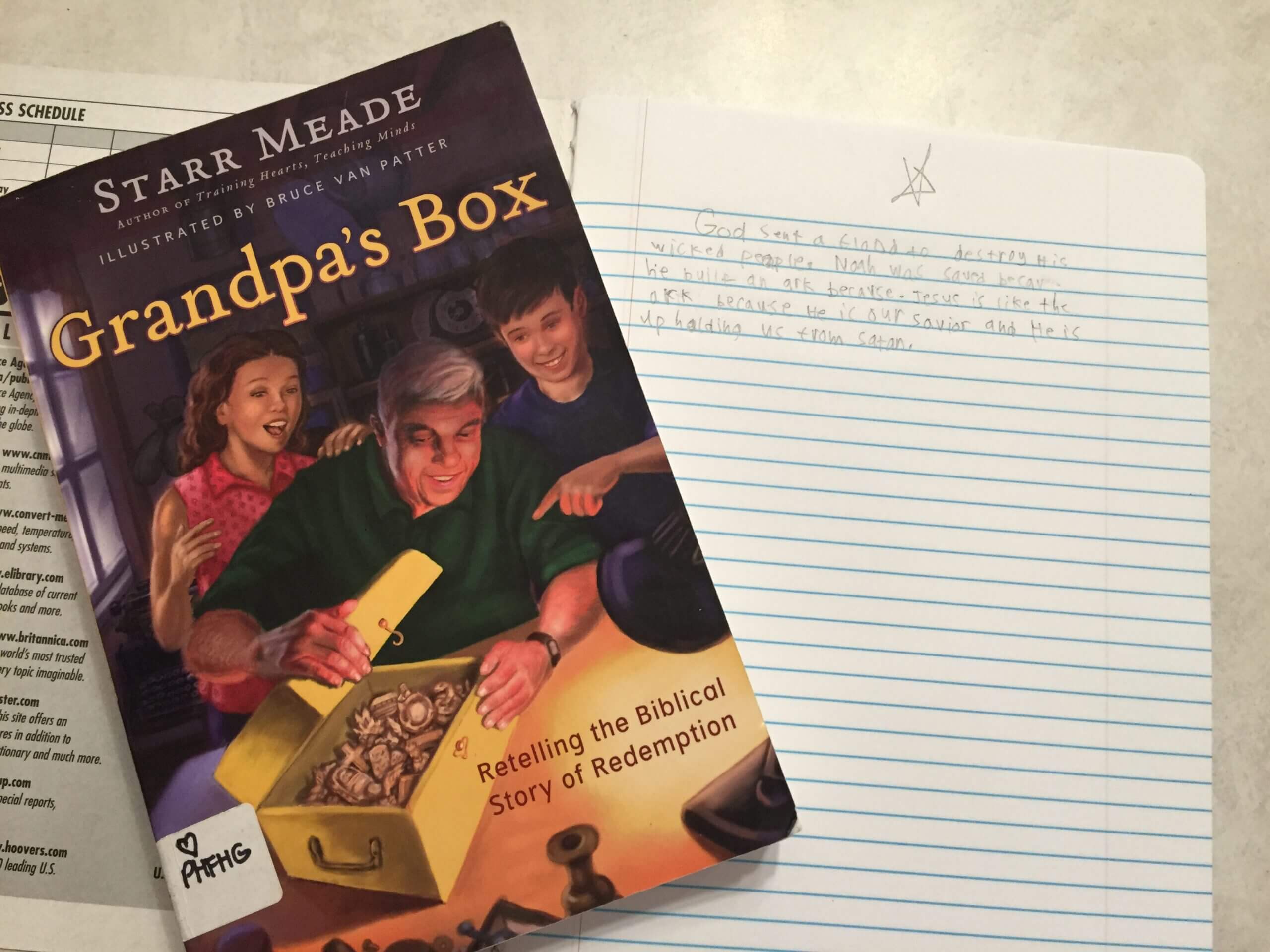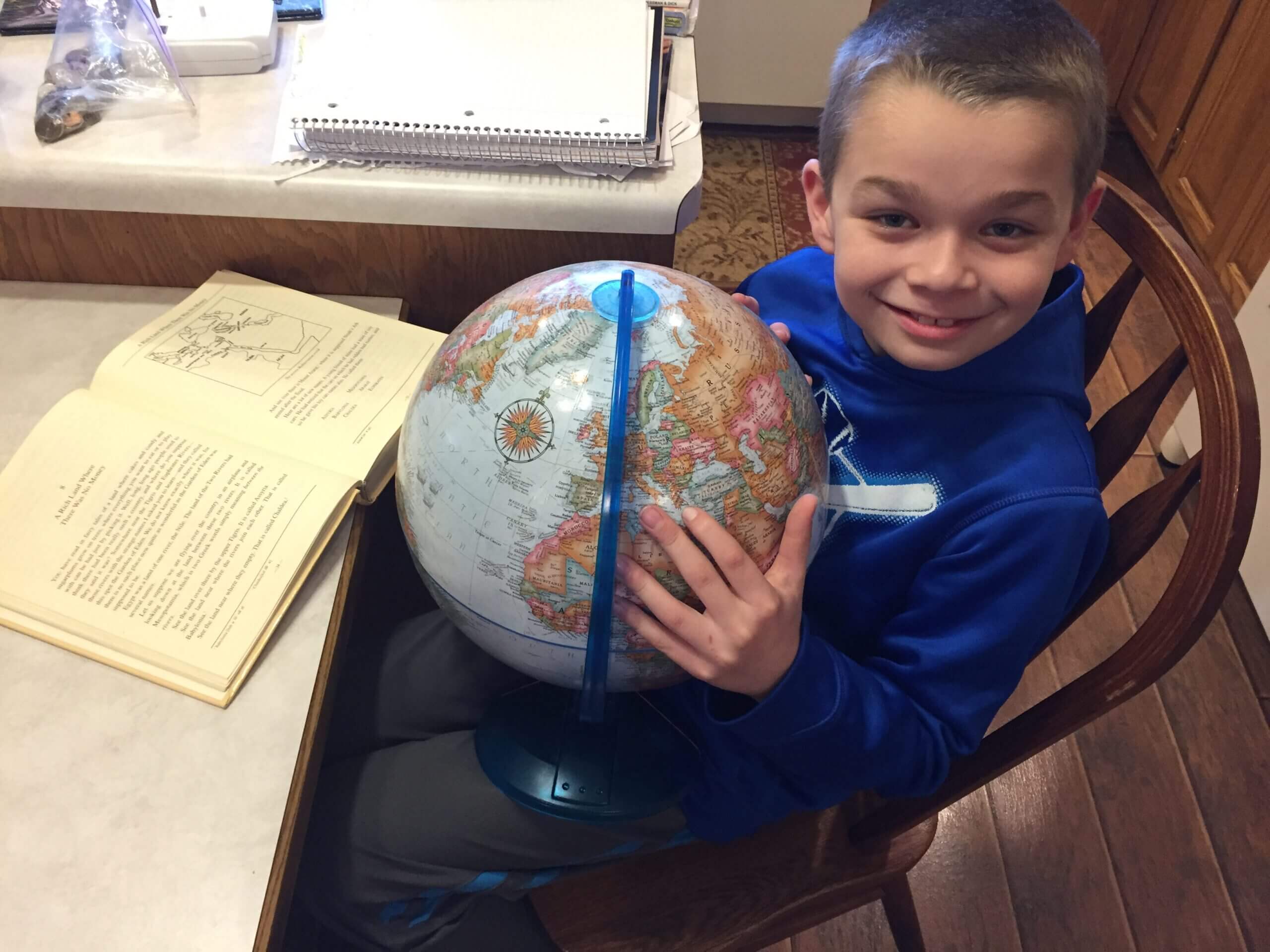 In Christ,
Julie
P.S.  You can check out our placement chart to see if Preparing Hearts… is a fit for your kiddos! If your child places better in Bigger Hearts…, check out this blog post by clicking here!
P.S.S. Click on each link below for Preparing Hearts...