Little Hands to Heaven – a great preschool whether you're just starting out or finishing strong!
Preschool with Heart of Dakota's   Little Hands to Heaven is complete, Christian, short, and fun.  What could be better for this exciting time?!? Our little ones are full of life and energy, and they are raring to go!  As homeschool moms, we may be at the start of our homeschooling and raring to go too, dreaming about homeschooling our first precious blessing from God.
Or, we may be somewhere in the middle of our homeschooling. Realistically, multiple children with many needs can lessen the excitement of beginning to homeschool another little one.  It can be tempting to always focus on the oldest, who is forever entering new and exciting stages.  Especially if our own education was less than satisfying (which let's face it, for most of us homeschool moms, it probably was).  We begin to love learning alongside our oldest child, and beginning to teach another little one can become, well, less exciting. In short, though we love each little blessing the same with all of our mama's heart, we may be weary.
Well, wherever you are in your homeschool journey, if you have a preschool aged child, I want to encourage you! Little Hands to Heaven for preschool truly is a doable blessing. Each week I'd like to focus on a new guide in this blog series. So, let's start with preschool first, and each week, let's 'grow up' a guide at a time together!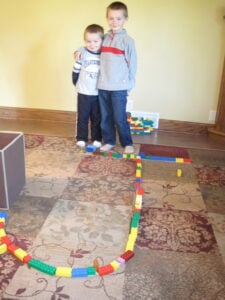 Do you long for something more meaningful than just letters… letters… letters… numbers… numbers… numbers… for PreK?
Everything you want your preschool to include is already a part of Little Hands to Heaven!  I like it because it reminds me of a mini-kindergarten.  Many other preschool programs only focus on letters and numbers… the whole year.  Don't get me wrong!  Letter recognition, letter formation, letter sounds, and early math skills ARE important, and they are a part of Little Hands.  However, that can get a little dry day after day, for both you and your little one. In contrast, Little Hands… adds pizazz with a mini-version of Kindergarten subjects like history, art, Bible, devotions, and music.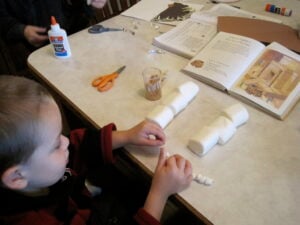 Furthermore, Little Hands… has history – BIBLE history!  What can be better than that?  It's Christian. It's chronological. Moreover, it's inspiring.  Finally, it's planting seeds that are hopefully sown upon fertile ground.  It keeps Christ front and center from the start, and the Bible history theme each week connects all the skills being taught.  Pretty memorable!  Which is exactly what we want for our little ones.  Skills meets retention meets the Lord.  A winning combination!  Not to mention, all the get-up-and-move parts of the plans! Dramatic plays, active exploration, fingerplays, art projects – your little one needs to move, and Little Hands… has that covered!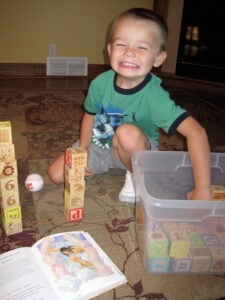 Okay, so to recap, let's check out Little Hand's… complete line-up below:
letter recognition, letter formation, letter sounds and motions
early math skills
Bible history and activities
devotional topics
art projects
dramatic plays
active exploration (science/health topics)
fingerplays
music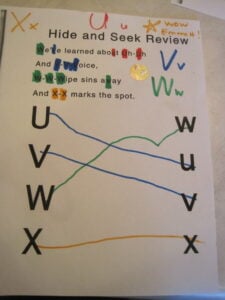 So, now you may be wondering, with all these great skills, will you have the time to teach Little Hands…? 
The answer is definitely 'yes!' No matter what stage of life you are in! Twenty-five to thirty minutes.  That's all!  Your preschooler will demand that much attention anyway.  Why not give it in a planned, well-balanced, meaningful way?  You young, new homeschool moms may be saying, "Hmmmm.  I'm not sure that's enough time."  You seasoned, veteran homeschool moms may be saying, "Hmmmm. I'm not sure that I have enough time."
Well, young moms, it is enough, and the good news is, you can add in other fun things if you want – like walks in the park, picnics in the backyard, or read-alouds and field trips galore. Veteran moms, you do have the time, and it will erase the guilt of not spending quality time alone with your little one.  And if you truly don't have the time, an older child can enjoy teaching Little Hands… to a younger sibling, and you can come in on the parts you care most about!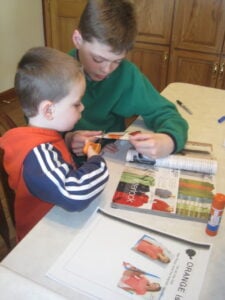 Added benefits -you don't need to plan ahead, leave your home, start a certain time of year, or buy extra things to do Little Hands!
Open-and-go.  Get up and teach!  Did you get to bed late caring for everybody but yourself?  Was there little sleep for you last night because you were up with a sick child… up tossing and turning… up because you aren't feeling well yourself?  Is it November, and you wanted to start something with your little one in August but haven't? Well, grab some coffee, stumble out of bed, and open that guide.  That's all there is to it.  Buy one Little Hands… package. You have what you need… and it won't cost you much… and you can reuse it.  Plus, the plans are not attached to holidays, seasons, or months.  So, anytime is a good time to start Little Hands!
One more surprising bonus – you actually get to be 'fun mom!'
These are my sons' words, not mine.  Let's just be clear, when I was fun and young, I wasn't so fun. I was trying to prove myself to all those people who thought homeschooling might not be 'enough,' and I prodded… quizzed… questioned… my poor oldest son too much.  Still, he thought when we did Little Hands… I was 'fun mom' – thank you, Lord!
Then, when there were health concerns for me and for my family when I began homeschooling my middle son, again, NOT 'fun mom.'  Still, somehow when we did Little Hands… I was 'fun mom' again – who knew?!?
And then when I began homeschooling my last son, I was sure 'fun mom' was seriously out of commission.  I was weary, gals.  Somehow, miraculously, 'fun mom' reappeared apparently!  I know, because my son called our Little Hands… 'playschool,' not preschool.  And he brought his Little Hands… guide to me begging to do 'playschool.'  New mercies… never-failing.  Turns out being 'fun mom' was awesome!  Often in the midst of some not-so-fun-things in life.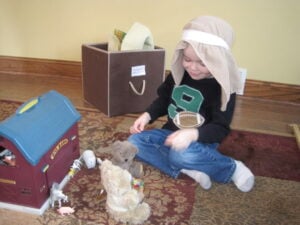 So, there you have it!  I hope you've enjoyed meeting Little Hands to Heaven!  Next time, I'll introduce you to Little Hearts for His Glory! In the meantime, enjoy checking out the printable Introduction and first week of plans of Little Hands, as well as some of our most common questions!
In Christ,
Julie