Creating a Charlotte Mason Timeline and Book of Centuries
"Children will need to have the sense that what they're reading has a specific time when it happened before their collection of knowledge gets too vast. To do this, make a century table, something like a timeline chart only longer. To make one, divide a long sheet of heavy paper into twenty columns. Put the first century in the center and let the rest of the columns represent a century, either B.C. or A.D. Let the child write the names of people he reads about in the the century they belong to. At this point, children don't need to focus on exact dates, but this simple table of the centuries will give the child a graphic memory of when things happened. He will have a panorama of events pictured in his mind in the correct order." — Charlotte Mason
Charlotte Mason's column timeline is part of Beyond Little Heart's… and Bigger Heart's history plans.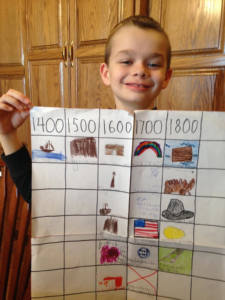 Heart of Dakota begins with Charlotte Mason's suggestion for a column timeline in Beyond Little Hearts for His Glory and Bigger Hearts for His Glory. Children don't really have a good grasp of the flow of history at that age. Seeing events in 50-100 year columns on a single or double page helps them better understand the flow of time. Prior to writing these guides, Carrie's oldest son kept a separate timeline book for his beginning 5 years of schooling. He used cut and paste figures. Since then, we've found much greater retention and connection for younger kiddos when we switched to the method described here. Drawing and labeling the figures really helps cement the people and events in young children's minds. It forces them to interact with the material more and makes it personal (and also very engaging to look at)!


A wall or accordion-style timeline is part of Preparing Hearts… history plans.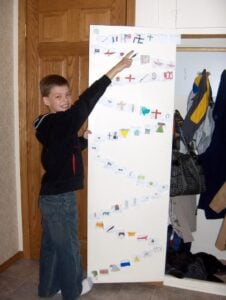 Next, we move into our one year overview of world history with Preparing Hearts for His Glory. We step the timeline up a level to either a wall timeline or an accordian-folded timeline. This also is designed to give a feel for the major events in the flow of history. It provides mental pegs for children to hang their history readings upon in the future. Children of this age are more invested in their timelines when they complete the work themselves. Doing it themselves means more to them because of the work it has taken them to produce the timeline.


A chronological continuous timeline using a 4-year cycle is part of Creation to Christ through Missions to Modern Marvels.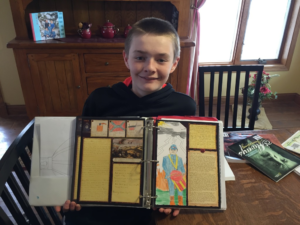 Once we move to Creation to Christ, we begin a chronological flow to history using a 4-year cycle. At that point we do begin a continuous timeline, which will be added to each year. However, we do not do it in isolation but rather within a beautiful full-color Student Notebook. This adds depth to timeline entries by providing places for written narrations, copywork, sketches, and maps (alongside the timeline). Many history connections can be made, as the timeline book is not separated from the rest of the children's work. The student adds a new section to the Student Notebook each year through each guide from CTC to MTMM. The result is one large beautiful volume completed over 4 years.


A Charlotte Mason-style Book of Centuries is kept as part of Heart of Dakota's 4 years of high school.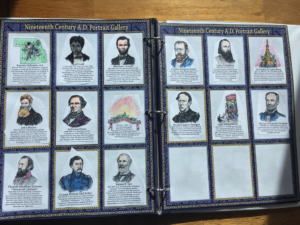 Finally, in high school students begin keeping a Book of Centuries. Carrie researched and read much about Charlotte Mason's version of a Book of Centuries. There is much to love about her approach. Heart of Dakota's approach is similar to hers in some ways and a bit different in others. Our Book of Centuries has a two-page spread for each century. This is in keeping with Charlotte Mason (except earlier centuries are combined as there are less known dates to record).


The right side of each two-page spread includes horizontal lines to record entries.
The right side of each two-page spread has horizontal lines. Each line represents an increment of 5 or 10 years in the century. To record an event on the timeline, students first locate the correct century. Then, they write a word or phrase to represent the event on the correct line within that century. This allows students to see at a glance events that defined the century.
The left side of each two-page spread includes customized portrait/picture gallery images.
The left side of each two-page spread is a portrait/picture gallery of people/events from the century. Amy Pak's beautiful hand-drawn timeline images and descriptions coincide with Heart of Dakota's plans. A customized printable CD for each guide helps students make a special keepsake Book of Centuries through high school. This portrait gallery replaces Charlotte Mason's version of the left side of the two-page spread. Her students were instructed to draw artifacts, clothing, and instruments from the century on the left page. While this is also a great visual for the century, as part of this assignment Charlotte Mason's students regularly visited museums to sketch from the real artifacts. A luxury we don't tend to have in our day to day homeschooling.
Charlotte Mason was not focused on memorizing exact dates but rather on comprehending the flow of time.
Carrie and I find it interesting that Charlotte Mason was not focused upon memorizing exact dates in which events occurred. Instead, she felt that comprehending a flow of time was more important. In thinking back, we memorized many historical dates through our high school and college years, and then promptly forgot them. It is interesting to note we still struggle to place things within a flow of time. We have little memory of what events or people share a century. We must continually refer to timelines to refresh our memory as to what happened when and what events proceeded others. Charlotte Mason's reasoning and thoughts on the keeping of a Book of Centuries resonate with us! We are glad our children will have a different experience than us! Who knows?!? Maybe their Book of Centuries will be a reference tool for them for years to come? Or at the least, a lovely memory of years we spent together enjoying history Charlotte Mason-style through high school!