We had a great first week with Beyond. We are doing 4 days a week school and ds loved all his new subjects.
He beamed every time I pulled out his History book and said, "I love that big history book", (Pioneers and Patriots). He was thrilled to do his science experiments, loved his poetry and can't wait to recite it to the family next week.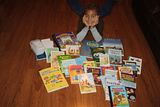 Ds did excellent with his copy work. He did 2 lines of the poem each day! For the illustration this week, I had him draw the picture on the front of his Day 4 Spelling book.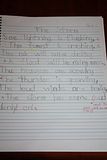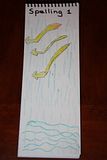 Spelling went great! I worked on teaching him how to study spelling and he did not miss one of the words all week! We love easy beginnings, they are encouraging.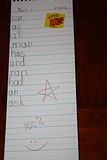 By day 2 he asked if we were going to read his "Peter Rabbit" books, from LHFHG, so explained that Squanto took the place of those and that we would do more books like that. He was satisfied and has been enjoying Squanto. He had a very hard time doing the activity: asking Squanto a question.
It was so cute as he asked me first if Squanto was still alive, where he lived and how he could ask him a question... I explained to him that we were pretending and I actually had him ask his Teddy Bear a question, pretending it was Squanto.. He thought it very strange to have to ask a question he could not get answered to a person in a book.
He is such a perceiver and so factual! His question was: "Squanto, are you scared?" and he looked at me like, well we will never get the answer, but I did what you asked!!!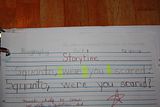 Math was a little bit tricky for ds this week, he was suffering from allergies and coughing alot.. Pollen count is outrageous here and we have all been itching our eyes, sneezing etc. So his concentration was a little less and we were adding bigger numbers. I had to remind myself that it is not for mastery!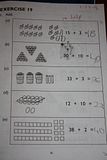 I have not taken pictures during school as this takes up extra time and it makes the days unnecessarily stressful for me.
Loving Beyond