I thought I would do a post about how I get ready for RTR.
First I make sure that my general supplies are replenished if need be. Such as, crayons, markers, colored pencils, pencils, glue, tape, erasers, scissors, paints, paintbrushes, construction paper, and watercolor paper.
Then I look at the introduction to the teacher's manual to get an idea of what I'll need.
I rounded up all the books for DITHR: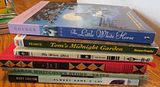 All the books for Storytime: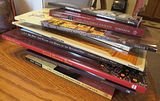 All the books for History, Science, and Girlhood devotions: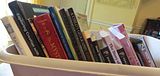 I went through the teacher's manual and scheduled the lessons for DITHR, Math, Writing, and English. Ours don't follow the plan as written in the manual and I like to have it written in there.
I put the Student Notebook pages in a binder. (I put the last half of the pages in a folder to set aside for later because my kids are hard on their stuff) I put the Shakespeare Notebook pages in the same binder.
I put tabs in the Student notebook binder for Art, Shakespeare, and to keep her place in the unit she is on. I will also be adding tabs to the Teacher's Manual to make it easy to find the poetry, dictation, and the unit she is on.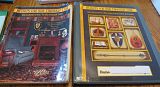 I printed off some pages for Science on cardstock. This isn't required, but I like to do it. The instructions just call for unlined paper with plastic page protectors or an unlined sketchbook, and some lab forms printed from the appendix. I hole-punch the pages and put them in a binder with tabs to separate them: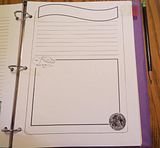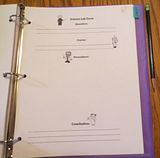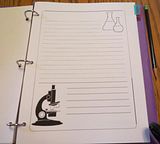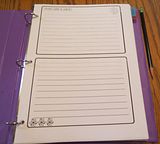 Make sure that she has a Common Place book, and a 3-subject notebook with sections for Math, English/Writing, and Dictation. I will have her print any final drafts from Writing onto cardstock, and hole-punch them and put them in the back of her Student Notebook binder: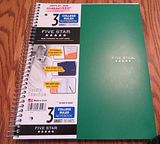 Figure out what books she'll need in the first 4 units and lay them out on her school shelves. The books that are not needed at first go on one of our bookshelves:

I hope this helps somebody, and if I forgot anything feel free to remind me!
ETA: You may want to also print off the maps from Map Trek.