Jacob Practicing making numbers while playing outside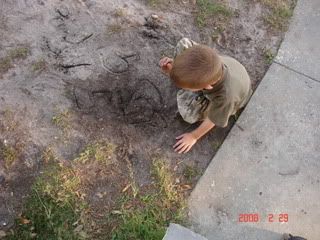 Jacob making his number "5's" in the dirt. All on his own
In all the years, all the different programs we've used, I have never seen my children show me through their actions that they are really getting IT, like I have since we began "Heart of Dakota"?!

My children talk about the bible stories, they sing the songs, they grab their art pictures to show off to daddy and tell him the "Key Idea's". They do this all on their own AFTER we have finished school, in the evenings or on the weekends. They are really getting "IT". I don't need any test to tell me they are understanding what they are learning because their little conversations and actions show me more than any written test ever could.

But the picture above just blessed my heart in a way that I cannot even describe.

One of the things this precious son of mine has struggled with was his writing. I don't know if you remember but a couple of weeks ago we were working hard on his numbers: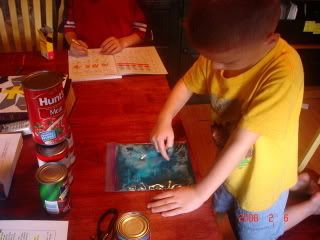 We just had fun, but put it away because he was not ready...., Then last night my husband was grilling on our front porch (2-3 weeks after the pictures above were taken) and he walks in the house and says, "grab the camera your gonna want to see this".

All on his own, there sat Jacob in our front yard, making the most perfect "5"'s in the whole world. He had a HUGE smile on his face as he said, "Look Mommy"!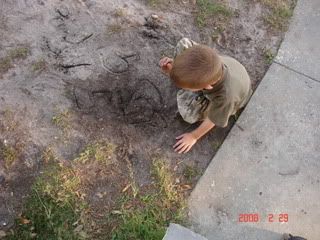 I learned long ago that sometimes children don't get it right away and that they have to be able to have time to process and filter information. Though I "know" that in my heart, many times I forget to remember. I want to teach and them to immediately get it!

Seeing our Jacob making those "5's" was the reminder that HE is in control. His timing not mine..., Less of me, more of HIM!