The
3rd time around doing LHTH
was an incredible blessing. Knowing what to expect, knowing why everything is done, having a girly spin on the guide. Just being confident a 3rd time around and through the help of HOD!
My dd got real girly with her alphabet and her crafts. She had such fun with school and begged me to even take her school work on vacation.
Worked on summer vacation since we live in Florida and were staying in the state. Did not work for Winter Sport..lol
It was a bitter sweet ending when I was done with LHTH with her. I won't need it anymore
. Saying "goodbye" to Pre-school, but I am so glad that there is such rich teaching ahead of her
DD did LHTH at age 4 for Pre-K. We did it full pace, as written, and she enjoyed very much. When we started off she already knew the sounds of the alphabet. The only thing we added in October was TRL upon her request
Here are some pictures: (Turned out, I have a million and 1 pictures
)
All excitedly we started with the letter A and as you can see dd was beaming to start LHTH. We put punched out apples with real apple seeds and we did animals.
She had fun doing her memory verses from the devotion book and measuring them to herself, and with her number book, cutting and pasting.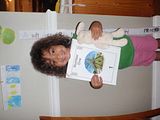 Walking her doll on the letter A for her letter activity. She used dolls, "My Little Pony", coins, etc. etc.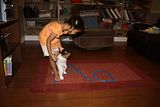 Finger Play: A-A-Adam, can you believe? God made the albatross to fly, you see!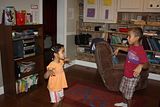 While on vacation we did
unit 4-letter D
, her craft of showing how Jacob tried to hide to pretend to be Esau, it's better to be yourself!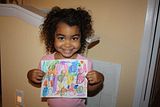 Jumping over the letter D than off to the pool..
Insisting on writing her own numbers on her number page!!!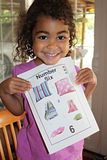 And copying the color word on the color pages, hoping the joy for writing remains forever!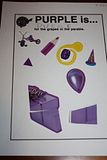 Writing letters with colored ice, pop sickles
Our "Keepsake" craft book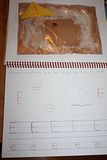 Jonah and the "Big, Girly Fish". She colored and painted and when I returned the fish had eye-lashes!
(she told me it was girl fish!!!)
Unit 33 A picture of the bright light that shone from heaven when Saul met Jesus as His savior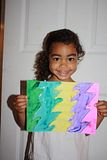 Blocks sorted by shape, color and size!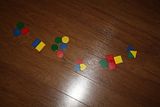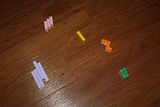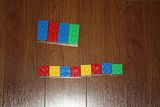 Skip counting by 4's
Writing has become a favorite of this little girl of mine, just from doing the activities in LHTH!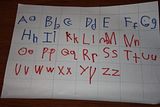 Pictures of our A-Z display: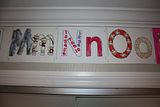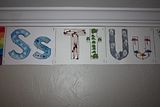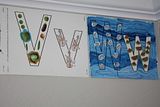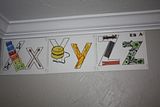 Just going through these pictures made my heart glad for such a great Pre-school program and a most wonderful pre-school year and sad that I am not doing pre-school again
!
A big hurray for HOD for having made my Homeschool journey a blessing from day 1.....